As a priest, I have been blessed by three different "new movements" in the post Vatican II Church.
The first is the Charismatic Movement to which I do not have a particular affinity and find too Pentecostal Protestant for my tastes as there is a syncretism of Protestant Pentecostalism and Catholicism.
But with that said, I was named the pastor of the Church of the Most Holy Trinity in Augusta in 1991 where I had about 100 or so families which belonged to a predominantly Catholic charismatic covenant community. There were aspects of this community which needed purification and a release of a renewal of Catholic identity which I pushed my entire 13 years there. That recovery of Catholic identity within the context of openness to some aspects of charismatic spirituality has produced abundant fruit in Augusta. And this community has provided more vocations to the priesthood in our diocese and elsewhere than any other community in our diocese and stunningly so.
At one time I wanted them suppressed but realized a pastoral solicitude toward them while challenging some of the disorders in that community was the ultimate best route to take. And now with a strong Catholic identity, but still charismatic, this community adds flavor to the Church in Augusta and in our diocese.
The second new movement I have encountered are homeschooling communities. I became aware of these at the Cathedral in Savannah around 1986 or so. I was very suspicious of them and wondered how they could produce well rounded children. Over the years, I have come to appreciate them and have for many years, since my time at St. Joseph Church in Macon and now at Saint Anne, to encourage them and open the parish to their use. They are like a leaven in our communities as is the Alleluia Community in Augusta. I believe they will produce abundant vocations for the Church if solicitude is shown to them.
The third "new movement" are the many young Catholics and others of all ages in between who have discovered or rediscovered the so-called "antecedent" Mass. Under Popes John Paul II and Benedict XVI and for over 30 years now, these communities have bee allowed to live in peace with the Church's hierarchy and to prosper and grow. These communities have been producing religious vocations far outnumbering normal parish life in most dioceses percentage wise, similar to the Alleluia Community in Augusta and Homeschooling communities.
Pastoral solicitude to keep these unique communities on track, non-elitists and solid and healthy is necessary, not authoritarian crackdowns.
What Pope Francis has done with his rigid approach to so-called "traditionalist" communities is a pastoral scandal in the truest sense of the word and a blunder beyond belief from a pope who constantly asks for accompaniment and listening from Church leaders. I do not think Pope Francis has ever visited any traditionalist communities especially when large numbers have gathered in Rome for various celebrations. It is unconscionable from a pastoral point of view to say the least.
Don't get me wrong. I am a post-Vatican II priest who celebrates the Ordinary Form Mass as the primary Mass in my parish. My participation in the Extraordinary Form has been precisely that, extraordinary and limited. But I see the fruits of these communities and also the problems of elitism and being unrealistic about the older form of the Mass once again becoming the normal form.
One does not need to crush a community in order to teach them that their opinions are wrong. They need pastoral guidance. Pope Francis has blundered in this and has undermined the papacy in doing so. Can we trust any pope and his decisions if another pope comes in and reverses it? Pope Francis has done this to a saint who was pope and a saintly pope emeritus still living. It is a scandal.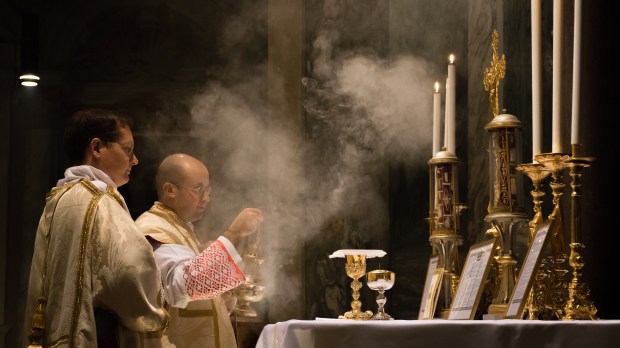 Here is a moneybyte from the interview above, press the title above for the entire balanced intereview:
Does such a document carry the risk of fracturing the Church?
By adopting such a strict position, where there are conflicts with diocesan authorities, a whole generation that did not experience the liturgical war of the 1960s and 1970s will now fight for the liberation of the traditional Mass.
Each community will naturally defend its prerogative because it sees in this decision a profound injustice. However, as the historian Guillaume Cuchet recently explained in his book Does Catholicism still have a future in France? (Le catholicisme a-t-il encore un avenir en France), the transmission of the faith continues more effectively in these communities of the faithful than elsewhere. These communities are alive and give vocations, in a world that is ultra-secularized and constantly de-Christianizing. These communities, far from being isolated from the world, recognize themselves in the observations of Pope Benedict XVI about creative minorities.
Inevitably, others will return to the Society of St. Pius X because of the goodwill that their fidelity to the Roman See has earned them. More seriously, vocations that have matured within traditionalist communities will find themselves faced with a real life choice. This is the most terrible part of this affair. When you have grown up spiritually in a universe, your future may be suspended by a Roman authorization and this one legal act could, possibly, ask you to deny your own journey in the Faith and its liturgical expression. Thus vocations may be lost or, at the very least, there will be serious crises of conscience.
In other words, the two Roman texts of the last six months create a cluster bomb that the bishops will have to deal with in the coming months. Personally, I think that the Church, deeply tainted by the sexual abuse of minors, has other priorities and that she cannot afford the luxury of a crisis of this kind.