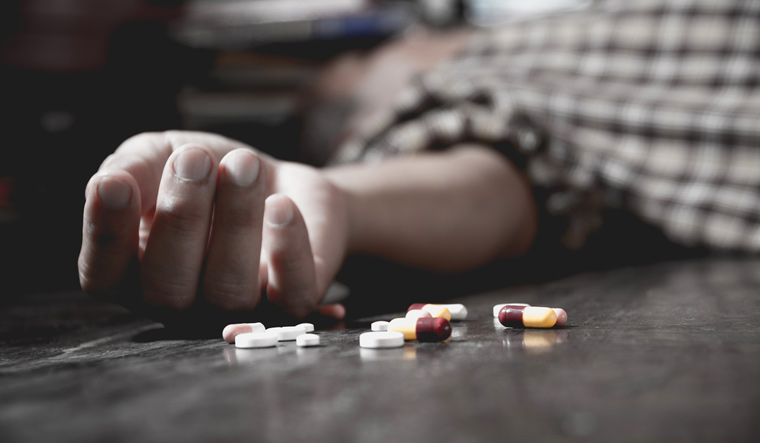 I read obituaries, that's what I do. At one time in the Bible Belt most people indicated their Church affiliation in their obituary. More and more, no religious affiliation is indicated and services are deferred to a later date TBA. This is code for there won't be services!
I wonder if being a none contributes to the aimlessness of so many lives and to subsequent mental disorders?
Suicide pushes down life expectancy
By Mike Stobbe The Associated Press
NEW YORK — Suicides and drug overdoses pushed up U.S. deaths last year, and drove a continuing decline in how long Americans are expected to live.


Overall, there were more than 2.8 million U.S. deaths in 2017, or nearly 70,000 more than the previous year, the Centers for Disease Control and Prevention said Thursday. It was the most deaths in a single year since the government began counting more than a century ago.


The increase partly reflects the nation's growing and aging population. But it's deaths in younger age groups — particularly middle-aged people — that have had the largest impact on calculations of life expectancy, experts said.
"These sobering statisticsareawake-upcallthat we are losing too many Americans, too early and too often, to conditions that are preventable," Dr. Robert Redfield, the CDC's director, said in a statement.
The suicide death rate last year was the highest it's been in at least 50 years, according to U.S. government records. There were more than 47,000 suicides, up from a little under 45,000 the year before.
For decades, U.S. life expectancy was on the upswing, rising a few months nearly every year. Now it's trending the other way: It fell in 2015, stayed level in 2016, and declined again last year, the CDC said.
The nation is in the longest period of a generally declining life expectancy since the late 1910s, when World War I and the worst flu pandemic in modern history combined to kill nearly 1 million Americans. Life expectancy in 1918 was 39.
Aside from that, "we've never really seen anything like this," said Robert Anderson, who oversees CDC death statistics.
In the nation's 10 leading causes of death, only the cancer death rate fell in 2017. Meanwhile, there were increases in seven others — suicide, stroke, diabetes, Alzheimer's, flu/pneumonia, chronic lower respiratory diseases and unintentional injuries.
An underlying factor is that the death rate for heart disease — the nation's No. 1 killer — has stopped falling. In years past, declines in heart disease deaths were enough to offset increases in some other kinds of death, but no longer, Anderson said.
(The CDC's numbers do sometimes change. This week, CDC officials said they had revised their life expectancy estimate for 2016 after some additional data came in.)
CDC officials did not speculate about what's behind declining life expectancy, but Dr. William Dietz, a disease prevention expert at George Washington University, sees a sense of hopelessness.
Financial struggles, a widening income gap and divisive politics are all casting a pall over many Americans, he suggested. "I really do believe that people are increasingly hopeless, and that that leads to drug use, it leads potentially to suicide," he said.
VoteCast, a wide-ranging survey of the electorate conducted by The Associated Press, found voters expressing pessimistic views about the future: About half of voters nationwide said they expect life in America for the next generation to be worse than it is today.